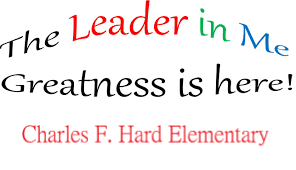 The Leader in Me teaches 21st century leadership and life skills to students and creates a culture of student empowerment based on the idea that every child can be a leader.
Instead of seeing children through the lens of a normal distribution curve, some kids are naturally smart and others are not, The Leader in Me paradigm sees that every child is capable, every child is a leader. This paradigm changes everything.
Charles F. Hard Elementary is proud to be one of over 2,000 schools across 35 countries to have adopted The Leader in Me process.
The Leader in Me centers around cultivating students in the following 7 Habits: