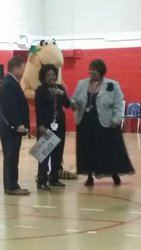 One Class At A Time Winner!
KUDOS Mrs. Thomas!
Congratulations to Mrs. Katherine Thomas for winning the "One Class At A Time" $1000 check from CBS 42 and Little Caesars Pizza.
Mrs. Thomas is our Technology Specialist, and she will use her winnings to enhance the Robotic Club at our school.